Opportunity Management
Opportunity Management
Documentation
May 18, 2020
Using opportunity management capabilities, you as a partner can manage your SAP App Center pipeline jointly with SAP. In the following sections, we describe the different opportunity management capabilities available to you.
Watch this video to learn how to use opportunity management capabilities on the Partner Cockpit
Automatic notifications
From the details page of your product page, customers or SAP Account Executives can create a Preliminary Opportunity by clicking on the "Contact Me" or "Get it Now" buttons.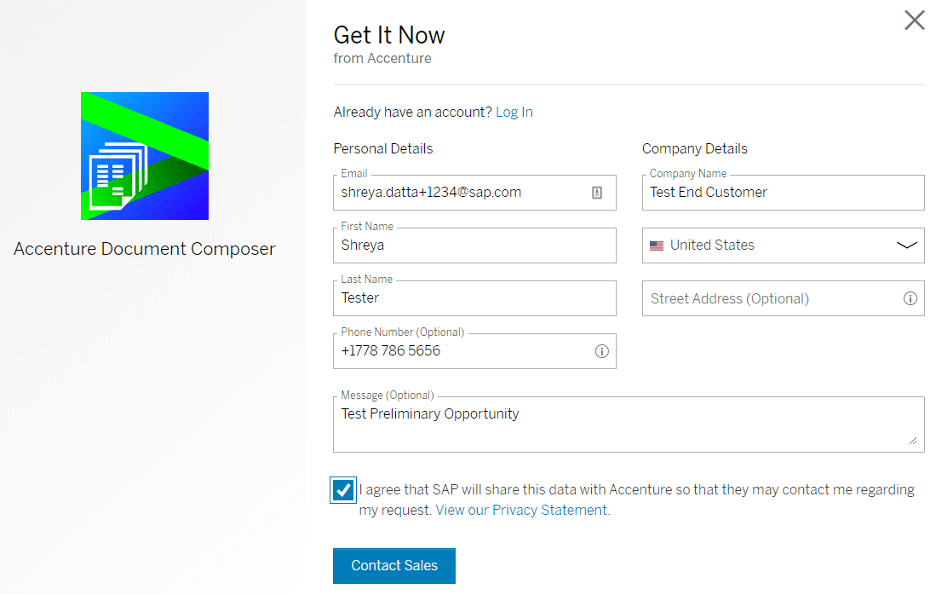 Upon submitting, they receive a confirmation message and notification and are expecting to hear back from you within 2 business days.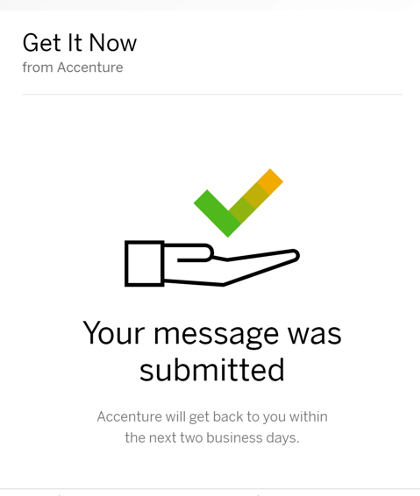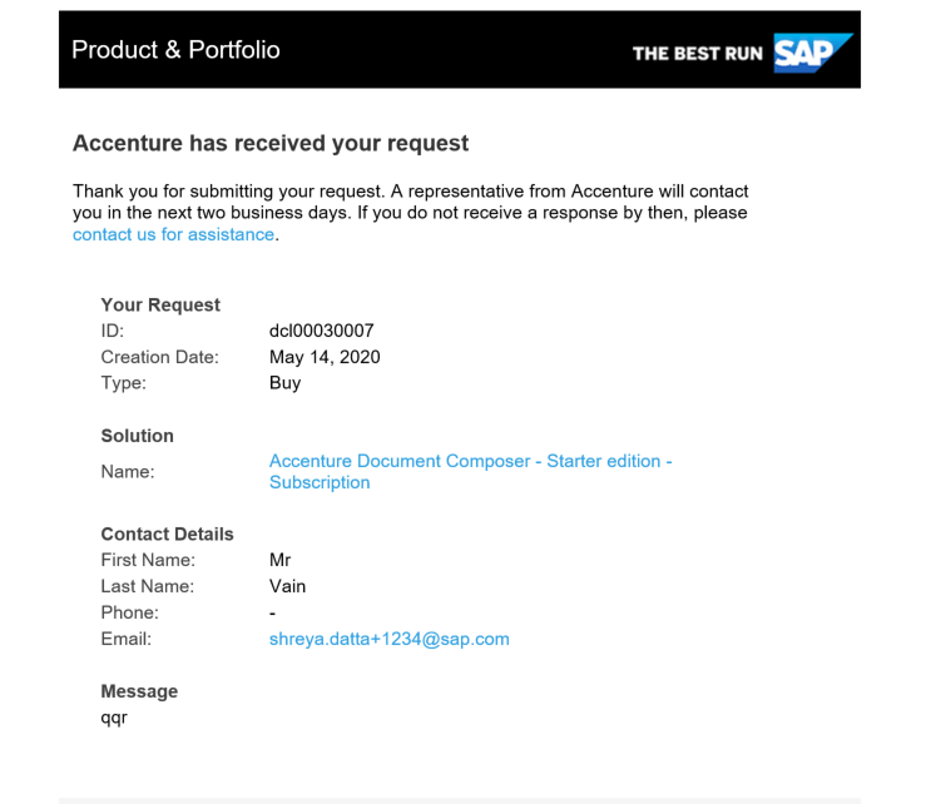 In Addition - after the preliminary opportunity is submitted, you as a partner get automatic notifications as well. The SAP App Center team will send you up to three notifications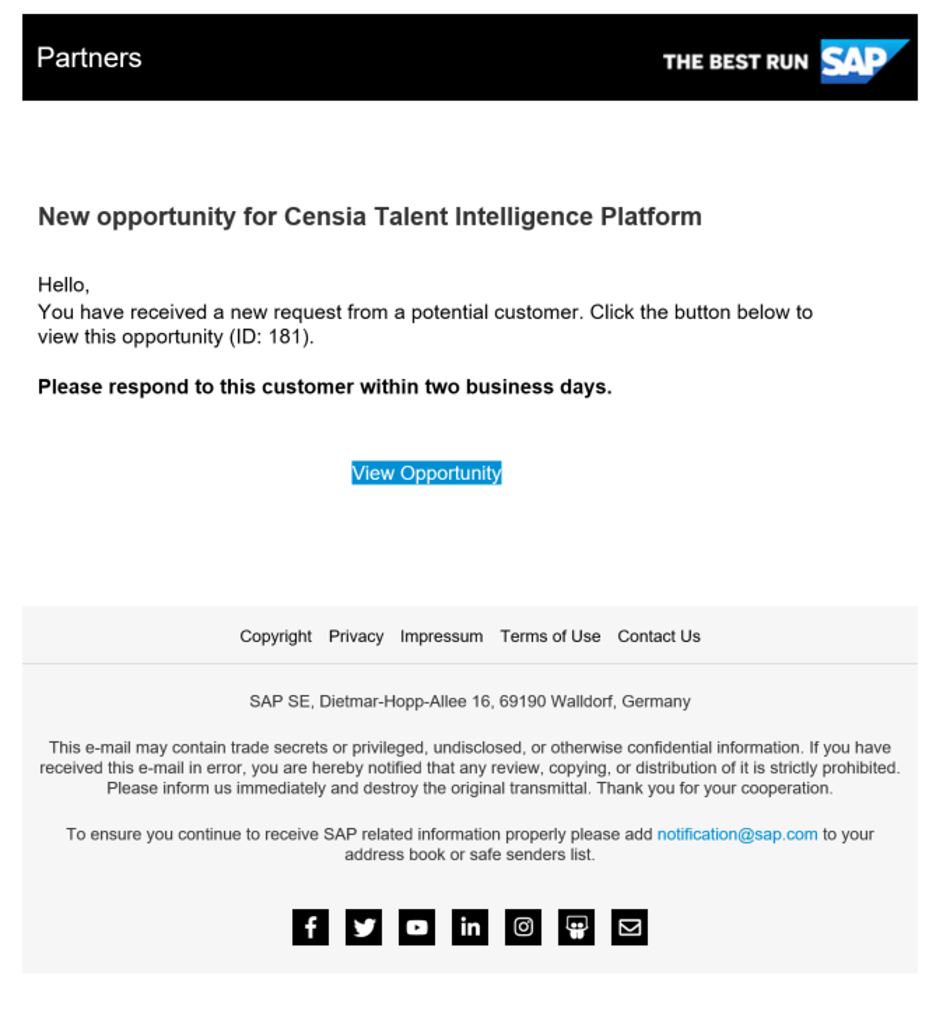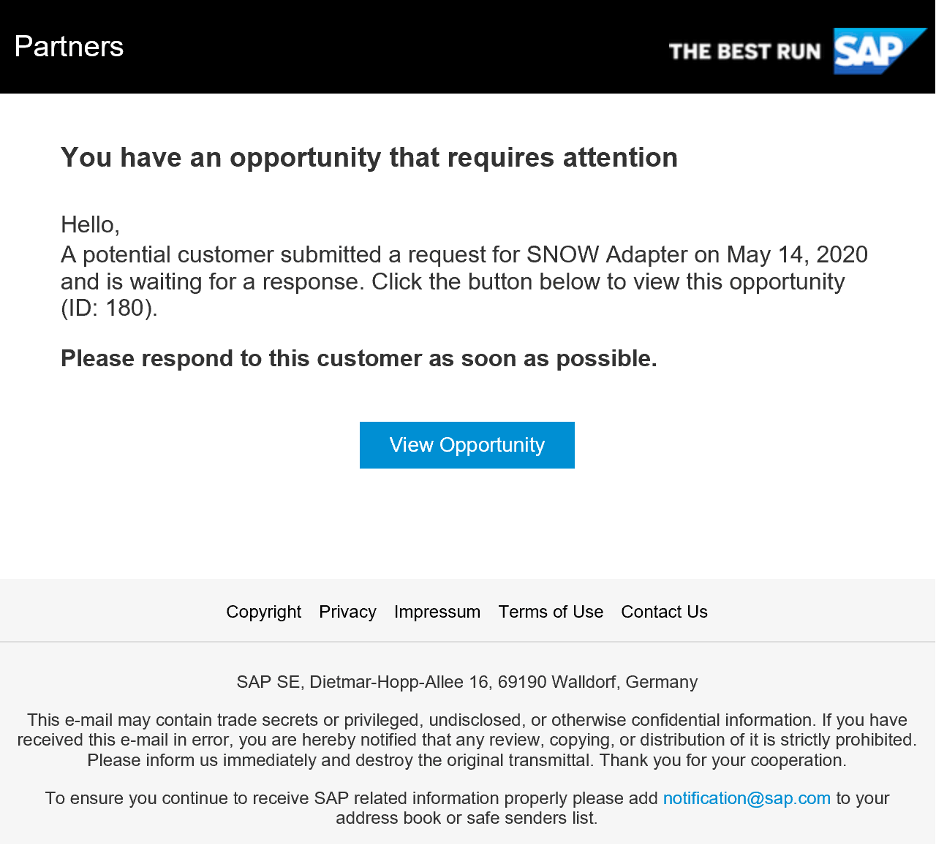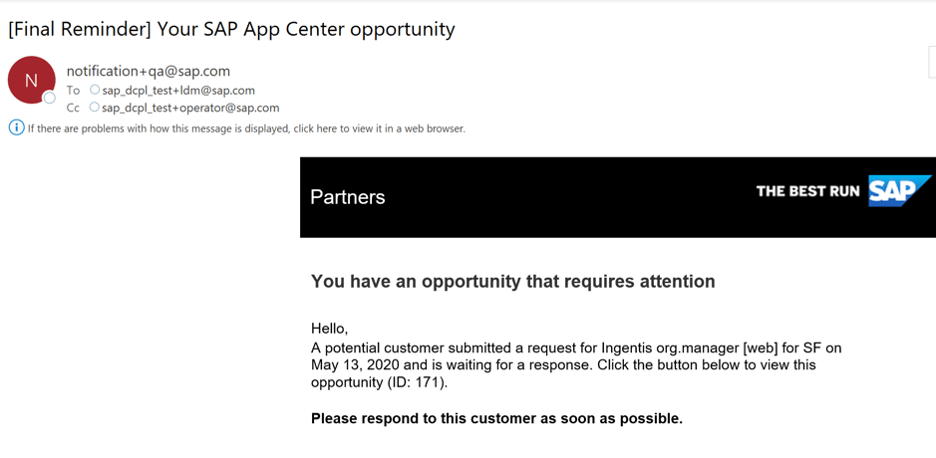 Please ensure you take timely action by Acknowledging your preliminary opportunities within 2 business days.
SAP will audit non -compliance and take punitive action as needed should we find our customers and field were not contacted back by Sap App Center partner's in a timely manner. In the following sections we will learn about how you can act on your opportunities in the partner cockpit.
Opportunity statuses
Preliminary opportunities have 4 statuses
NEW – Initial status when the opportunity has just been created. At this point – you are expected change the status to "Accepted."

ACCEPTED – This means you acknowledge you are pursuing this opportunity. In the cockpit, you can click on the button "Accept" against a New opportunity to change status successfully to Accepted.

NOTE: 2 Business days is the SLA for NEW to ACCEPTED. As a best practice please Accept opportunities via notification emails in a timely manner

DEAL CLOSED – If your sales cycle with SAP's end customer is successful and you close the deal – please let us know by clicking on " Create a Deal" from the ACCEPTED Tab.

Once you have created your first deal from an opportunity – you will find this opportunity in the "DEAL CLOSED" tab. You may create another deal from this opportunity of you need to.

REJECTED – If you cannot pursue this opportunity for whatever reason, please let us know by clicking on "Reject."

Rejected Opportunities are available in the Rejected Tab.

If you need to re-activate a previously rejected opportunity, you can do so here by Clicking on Accept. NOTE: SAP periodically audits rejection reasons. An SAP App Center representative will contact you if additional clarifications are needed.
Opportunity details
In order to follow up on opportunities, you need contact information and details that were submitted.
You can explore an individual opportunity details and export data by clicking on the Arrow Symbol against any opportunity.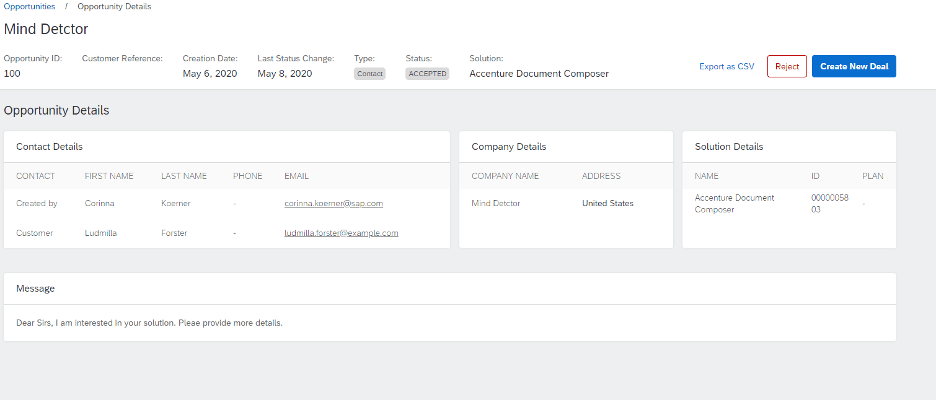 Opportunity import and export
Opportunities are sometimes collected offline – for example, from a webinar or an event . We've made it possible for you to upload such Opportunity via CSV import.


Opportunity import and export
Filtering
of your opportunity can be refined further by applying user-specified filters and/or searches with:
New search user interface for Opportunity by ID

Filtering options available per column in the Opportunity list table

The ability to sort Opportunity by status and quickly view the volume of Opportunity for each status type
Sorting
of your Opportunity can be done by the fields displayed in the columns of the Opportunity table. For example:
The new Opportunity tab sorted by default by Created Date in Ascending Order – the table displays the oldest Opportunity in in the "New" status at the top

The rest of the tabs are sorted by default by Opportunity ID in Descending Order - with the newest appearing first
Thereafter, you can sort in any order you like, on any of the columns.
Searching
can be done by entering the Opportunity id on the search bar.