Deal Creation and Management
Deal Creation and Management
Documentation
May 18, 2020
SAP App Center Partner Cockpit's Deal Management Capabilities make it much easier for you manage your business with SAP. We want to help you gain insights on the conversion of your opportunities to deals and automate your deal and bill management related interactions with SAP.
Watch this video to learn how to use deal management capabilities on the Partner Cockpit
Deal and Bill management capabilities, you can leverage today are:
Submit a Deal

Renew a Deal

Update Deals (Downsell, Upsell, Increase and Decrease Consumption)

Request cancellation of Deals
All these capabilities are primarily for subscription deals. However, we support consumption deals and one time deals as well (with certain limitations – see Deal Type Vs Deal Actions table below for details).
| | Subscription | Consumption | One Time |
| --- | --- | --- | --- |
| Deal Submission | Yes | Yes | Yes |
| Deal Renewal | Yes | Yes | No |
| Deal Upsell | Yes | Yes | No |
| Deal Downsell | Yes | Yes | No |
| Deal Cancellation | Yes | Yes | Yes |
If you're unsure about what type of deal applies to you, please contact
support_appcenter@sap.com
.
Please ensure you report your deals to SAP App Center no later than 30 days after the contract was signed.
Start a Deal
There are 3 ways to Start a deal:
From an existing Opportunity

– This is meant to be the most common way to create a deal. You should already have an existing opportunity. If not – please ensure one is created by yourself (You can use import opportunity capabilities). Your opportunity needs to be in "Accepted" status before you can create a deal from it.

Figure 1: Create New Deal from an Accepted Opportunity

From scratch

– This option is to be used when you do not have an opportunity handy and still need to proceed because of tight timelines.

From the Solution View

– This option is meant to make it easier to start from scratch. By clicking on "Create Deal" from this view, the solution details get pre-populated in the deal draft.

Figure 2: Solution View with Create Deal Button
Save a draft
In the Deal Draft view, you can: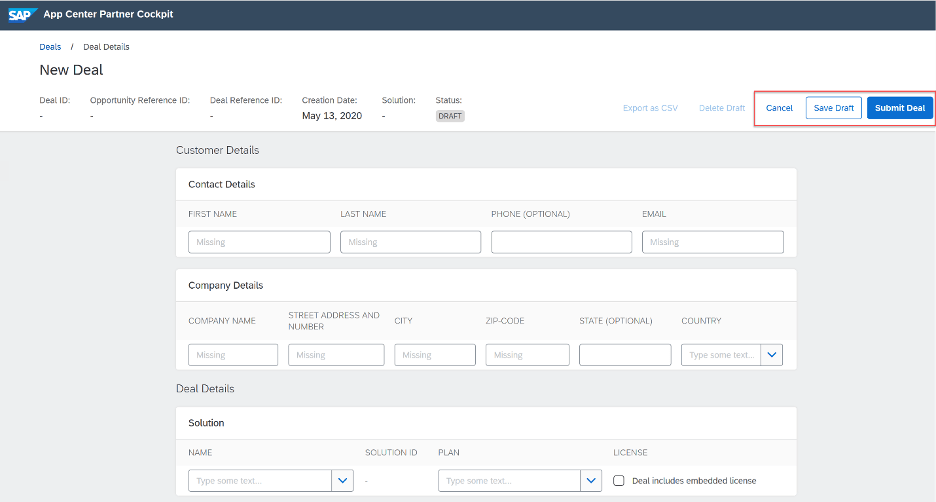 Please ensure all relevant information is provided per guidelines below.
Customer Details

Contact Details – This is to identify your primary customer contact.

Company Details – This is to allow SAP to identify the end customer accurately and provide credit the right account teams and regions.

Deal Details

Solution – This section identifies relevant details about the solution so that right revenue share and calculations are applied.

Contract – Please enter contract type, start date and duration details per the signed agreement between you and the customer. The billing term selection allows SAP to bill you at your chosen frequency. You can also upload your contract in a pdf format.

SAP Revenue Share Billing

Invoice Recipient – Identify the person in your organization who will receive SAP's revenue share invoices.

Total Contract Value – Please enter the deal value excluding tax. Total Revenue Share will automatically be calculated.

Billing Schedule – Use generate bills button to see your billing schedule.
NOTE: If you created a deal from an existing opportunity some of this information should be pre-populated already. After reviewing all the information above, please save a draft.

If an Account Executive from SAP has filled the form on behalf of the customer's company, her/his information will be automatically populated in the Customer Details field. If this has been your customer's case, please make sure to change the Customer Details content to include the information about your primary customer contact.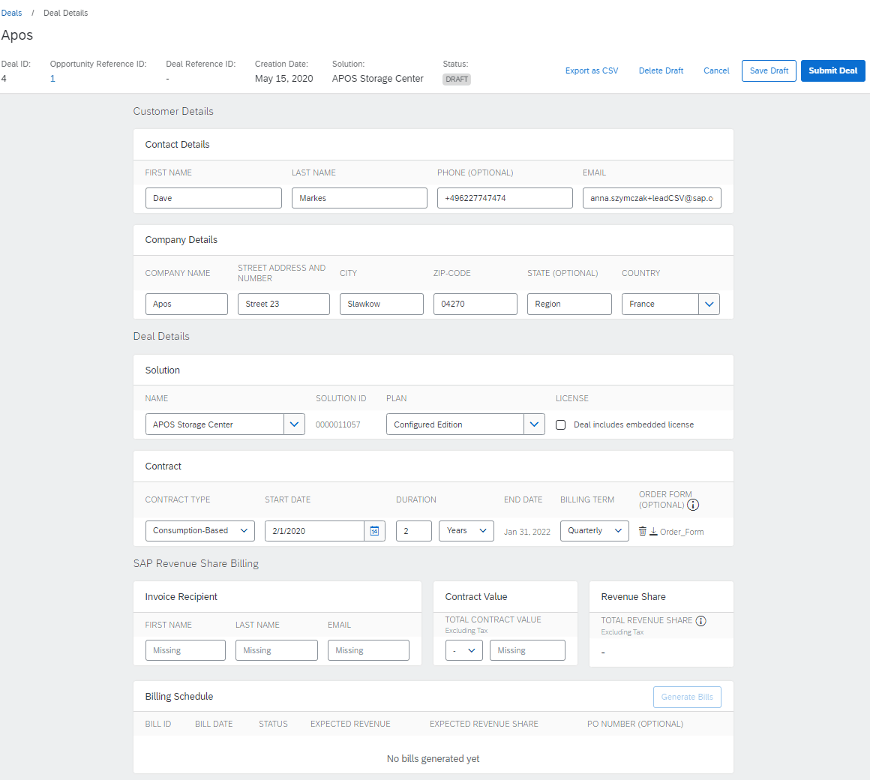 You can always access previously saved drafts in the Draft Deals view and resume editing.
Deal draft notifications
If you create a deal as a 'draft' and leave it for a few days. SAP will send you a reminder to act on the draft, after (30) days of deal creation.
NOTE: Email notifications of deals can also be configured for a specific recipient (one per product listing). We recommend sending these notifications to a distribution list or a mailbox shared by your team.
Deals in process by SAP
Before SAP can start Invoicing you per the details of the deal you just submitted, we need to do some checks on our end. During this time, you'll see your recently submitted deal in the tab "In process by SAP."

Active Deals
One you successfully submit a deal, and SAP has completed all checks and started the process of invoicing you, you can see the deal in the "Active Deals Tab."

Notifications for active Deals
Once you submit a deal, you will receive an email notification. In addition - If the deal has an approaching 'end date' you will receive 3 notifications - (90), (60), (30) days before end date to renew the deal.
Allowable actions on Deals
By using the Edit Deals button on an Active deal or clicking on the call to actions available in an active deal, you can:
Upsell or Increase Consumption

Downsell or Decrease Consumption

Request Cancellation

Renew

Export

Upsell
We want to make it easy for you to upsell to your customers and manage related billing changes. You can initiate an upsell from an existing active deal.
If you have a subscription deal, you'll see the "Upsell" button on the deal details view.

For consumption deals, the corresponding button reads Report Higher Consumption

In both cases, you get the chance to add revenue to existing deals.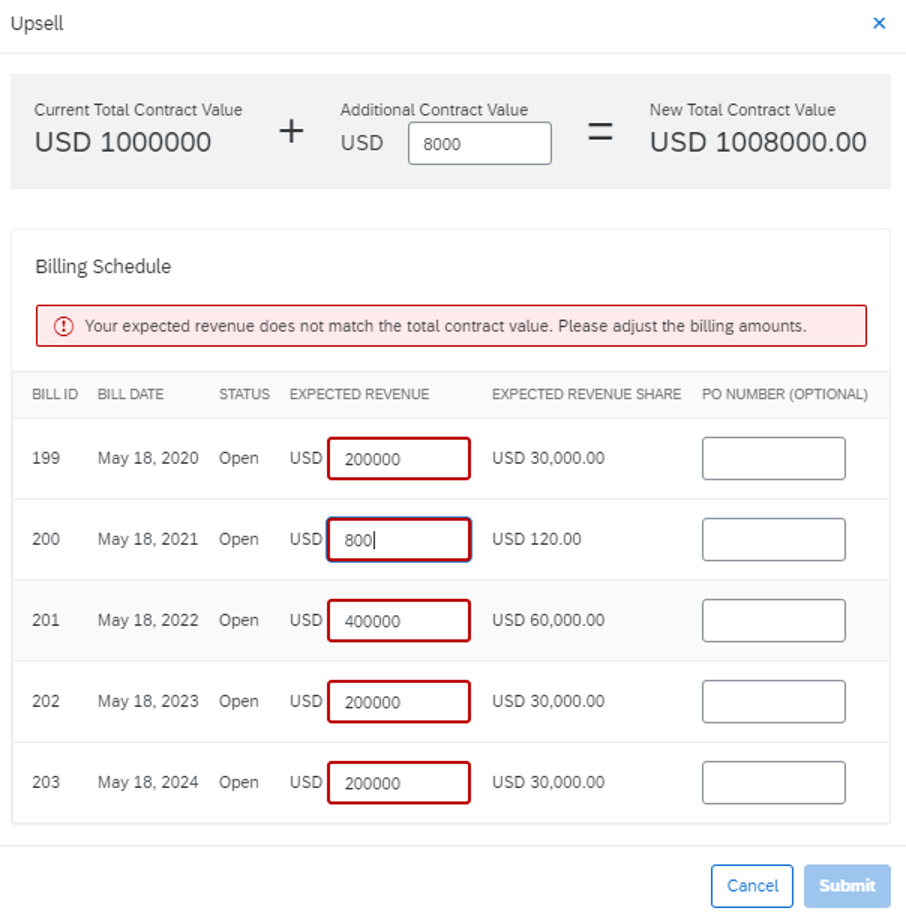 Please ensure that you split the increase across open bills accurately.
After Submitting you upsell, you'll see the deal status change to "In process by SAP "and the Revenue Share and Contract Value change. This deal moves to the "In Process "tab till SAP has had the chance to make the necessary updates to your billing.
When you upsell, changes are confirmed by SAP, the deal will move back to the "Active" tab.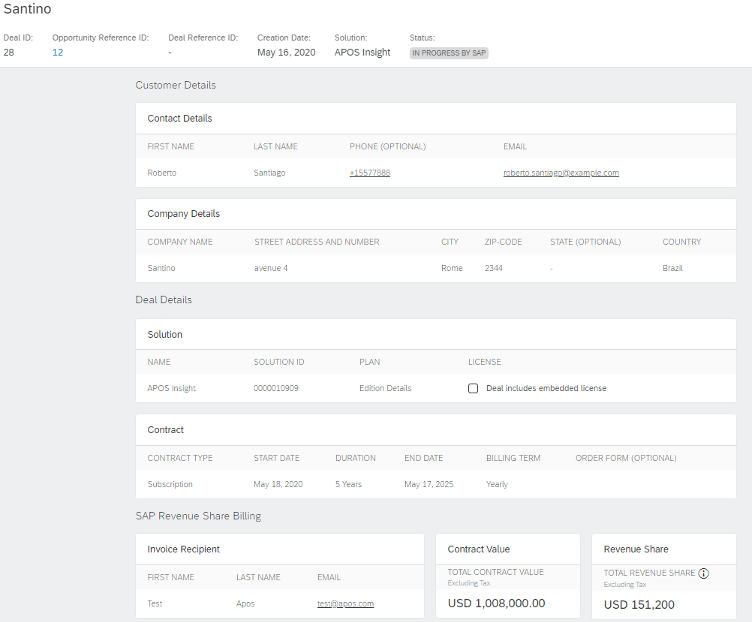 Downsell
Downsell allows you to notify SAP if there has been a reduction in total contract value for an active deal. For subscription deals – you can notify SAP by clicking on "Downsell" button.

For consumption deals, the corresponding button reads "Report Lower Consumption."

Sap App Center Partner Cockpit's down sell capabilities work exactly like upsell – except it is a reduction in the Total Contract Value.

Request cancellation
You can request cancellation of an active deal by clicking on "Request Deal Cancellation". Please complete the email and send it. We will get in touch with you to process the cancellation.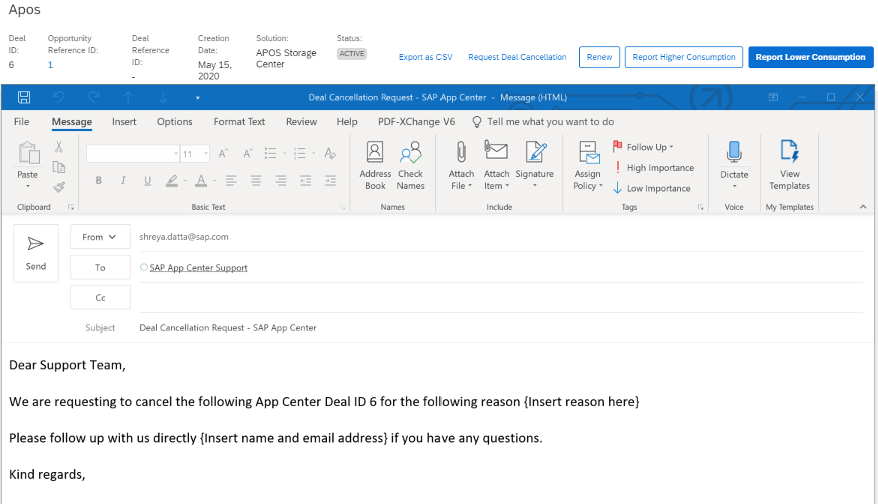 Once SAP has processed the cancellation – you will see the cancelled deal in the "Cancelled" Tab.
Renewals
If your customer renews a contract that has already been reported to the SAP App Center, you will need to report it. This can be done easily by taking the "Renew" action on an existing deal as long as its status is "Active" or "Completed" and the contract type is either "Subscription" or "Consumption-based."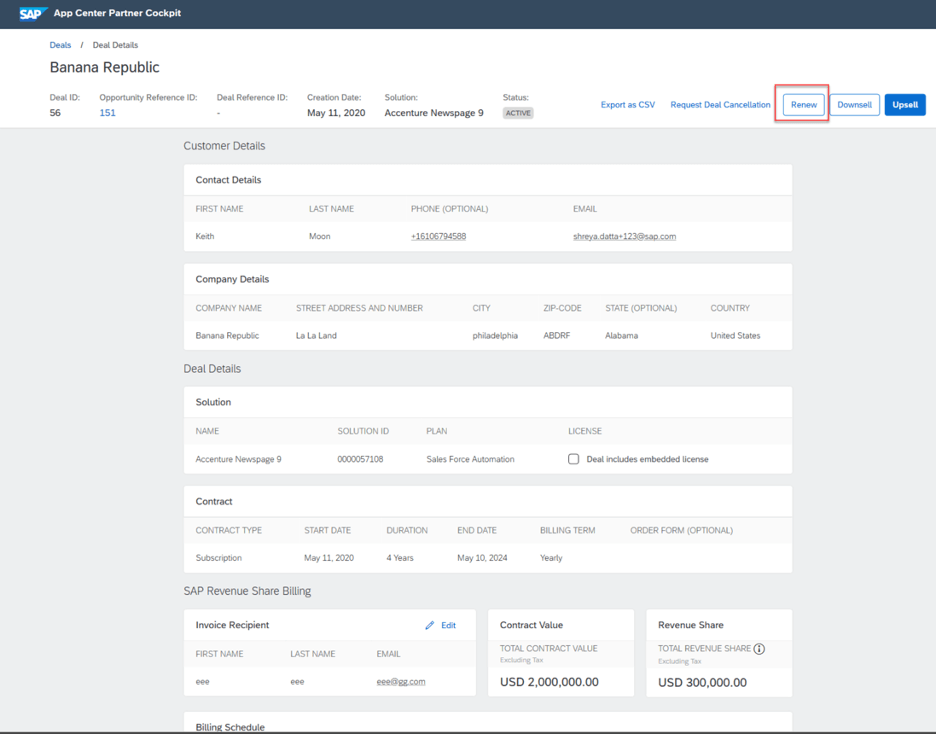 Upon creation of a deal renewal, please verify the following auto populated information in the draft renewal deal.
Start date of renewal deal = end date + 1 of original deal

Duration of renewal deal = same as original deal

End date of renewal deal = duration + start date of renewal deal

The "Contract document" that was in the original deal should not get copied over

The billing frequency is copied over and bills are created according to the new dates

The deal is created in "Draft" status
Update information on the screen as needed. Upon submit, SAP will get notified, the deal status will change to "In Process by SAP" and you will see the original deal referenced.

When SAP has confirmed the renewals, you will see this renewal deal in your "Completed" tab.
Renewal reminder notification
SAP also sends you email reminders 30, 60, 90 days before your active deal is about to expire so it's easier to keep track of upcoming renewals.
Deal export
Should you need to submit deal information elsewhere - clicking on the Export as CSV button from the deal detail page allows you to export all deal details to a spreadsheet.
Deal export mass
From any deal view (Active, Draft, In Progress, Complete, All) – You can click on the export deals button and extract all available information in a spreadsheet.

Completed deals

All deals that have already expired are available in this view with the corresponding call to action. Subscription and Consumption based completed deals can be renewed and exported from here. One time completed deals can only be exported.
Deal list view
As a partner – you will be able to see all the deals you've submitted to SAP App Center along with possible next steps in the "All" Deal List View.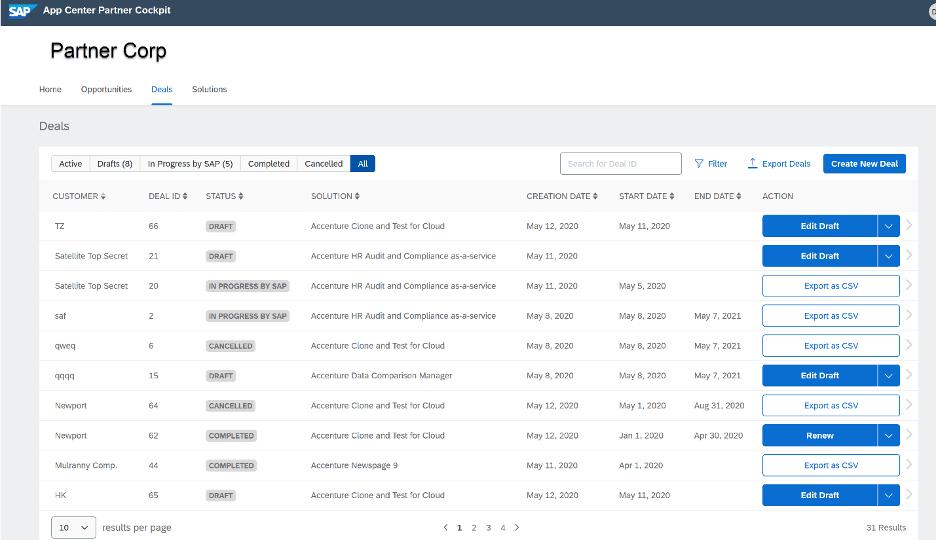 Deals can be refined further by applying user-specified filters/searches/sorting, such as the following:
General search box for "search by deal ID"

Filter per column in deal list table

Show counts in different statuses

Filter menu, with different categories, allowing for a search to be completed inside each category

Sorting options available